Azure Active Directory: How to use it?
Azure Active Directory (Azure AD) is Microsoft's cloud-based identity and access management service, which helps your employees sign in and access resources in:
External resources, such as Microsoft Office 365, the Azure portal, and thousands of other SaaS applications.
Internal resources, such as apps on your corporate network and intranet, along with any cloud apps developed by your own organization.
Azure AD's main purpose is supporting business organizations with extending their identity reach to the cloud and SaaS applications. On top of this, there are tons of enhancements and services provided, such as , conditional access, identity protection, application publishing, access to pre-configured applications and so on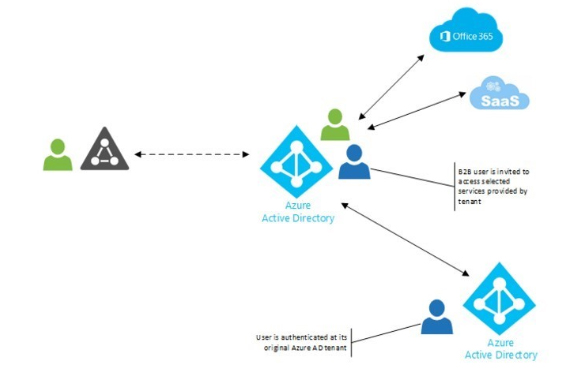 Azure AD B2C
Time for the last one – my favorite, which deserves a separate write-up (and it will get one) –
Azure AD B2C, Business-to-Consumer.
It is a separate service from Azure AD. Built on the same technology, but still… for different purposes.
The main difference – it is not to be used by single organization users. It's built toallow anyone to sign up as a user in a service with their email or social media provider like Facebook, Google or LinkedIn.
You don't need on-premises AD here since you're not creating a synchronization process. The purpose of Azure AD B2C is to allow organizations to build a cloud identity directory for their customers.
Example scenario
Let's imagine your business wants to build a website for your clients – might that be a shopping site, a customer-facing CRM app or a mobile directory of your products. You want to have it online, as a mobile application, and there might be other projects in the future.
Usually, in that case, organizations are building some solutions to handle user identities in the app. Database with users, login process, sign-up process, password reset… OMG – how we will store passwords?!
Then someone says – Hey, are we going to support Facebook login? We have to do this. Azure AD B2C does all of this for you. It is an identity repository in the cloud that allows your users to sign up for your applications with an email address and password (no restrictions on the email domain)or social media logins. The service itself handles all the processes like sign-up, sign-in, password reset and so on. You don't have to worry about it.
If you establish it once and your customer is signed up, and later you spin off a new application – it is all there. They don't have to sign up again. They can use their existing account for your applications.
The key scenario: Consumer-facing applications and websites. A business wants to maintain a relationship with customers online – their Azure AD B2C handles the identity and access part. Multiple applications can use the same directory to provide the client with SSO experience in your applications.